Bollywood Couples and their hush-hush Weddings
Weddings are always special to one's heart. While there are couples who do not feel marriages to be the ultimate practical implication of their love, hence, subtly avoiding the bond of marriage. There are also couples who want to lock their loves by getting hitched.
We, the nose-poking society is much curious about the big fat Indian wedding, and if somehow they end up being a Bollywood couple- Well, that's a cherry on the cake. We are busy gossiping and analyzing their wedding.
However, certain trends from our Celebrity weddings can be discerned-
1. Hush-Hush Weddings
Our celebrities are not dumb you see, so what if they are public figures? They have the Right to Privacy. It's simply not fair! We just cannot keep an eye on their lives 24*7. Thus, they have taken refuge to go underground prior to their wedding so that the media gets no hints at all.
In recent years, the trend was initiated by the 'bong beauty' tying the knot to the 'big-budget producer' – Yes, I am talking about Rani Mukherjee (40) and Aditya Chopra (47). The diva chose to keep her wedding super-secret and totally personal when she tied the knot on 21st April 2014 at Italy.
This trend was repeated by our very own B-town actress, Anushka Sharma (30) and the handsome cricketer, Virat Kohli (29). The couple chose to keep their wedding a low-key affair at Tuscan, Italy on 11th December 2017. However, with the revelation of the news, we all were awestruck!
I cannot move on to the next topic without the mention of our Quantico actress Priyanka Chopra (36) wrapping up her 'rokah' (engagement) with Hollywood singer Nick Jonas (25) on 18th August 2018. I bet no one was prepared to get such news!!
The list goes on there are many couples who have chosen not to reveal their wedding dates beforehand, like, Neha Dhupia-Angad Bedi, Amrita Puri-Imrun Sethi, Kunal Kapoor-Naina Bachchan, even Madhuri Dixit-Dr. Sriram Nene, and many more. Well, it's completely their personal choice and we totally respect that.
2. Destination Weddings-
Bollywood inspires us to follow. Our Bollywood stars have chosen some exotic destinations for their Weddings. One reason for this might be the desire to avoid unnecessary shutterbugs. While many have also cancelled their plans for a lavish destination wedding and tied the knot at their hometown, Sonam Kapoor (33) & Anand Ahuja (35) for example.
Let us have a look at some of the couples and exotic locations were chosen by them –
Anushka Sharma & Virat Kohli – Tuscan, Italy.
Rani Mukherjee & Aditya Chopra- Italy.
John Abraham & Priya Runchal- Los Angeles, USA.
Madhuri Dixit & Dr Sriram Nene- US.
Kunal Kapoor & Naina Bachchan- Seychelles Island.
The list goes on. Bollywood is a huge topic to cover up you know!
3. Subtle makeup- 
Our Bollywood divas mostly have to stay under heavy makeup and lights and so, they choose to go with minimalistic makeup on their d-day. Decked up in a gorgeous Sabyasachi lehenga or saree, adorned with traditional jewellery including a 'mathapatti' and soft 'gajra' our beautiful damsels leave us skipping a heartbeat.
One thing that they haven't cut down is on their 'Mehendi'. The Bollywood brides have selected hands full of unique mehndi designs and trust me, they look all the more breathtaking. For example, Bipasha Basu (39) looked like a princess on her mehendi night prior to her wedding to actor Karan Singh Grover (36).
4. Formal Wedding invites-
Yes, our B-town celebrities have taken formalities very seriously. Perhaps they do not want any loopholes to remain at their wedding invitations. Thus, they are found personally visiting their near and dear ones to invite them on their big day. Also, we have seen many B-town celebrities keep aside their personal grievances and reunite.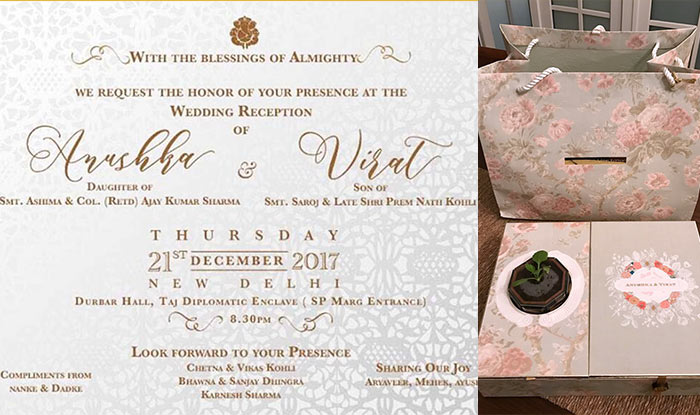 5. Dress Code- 
It's not a formal meeting, our celebrities have mentioned dress codes even for the ceremonies pre and post their wedding. Maybe, it is just for the sake of colour coordination. Recently, it was Sonam Kapoor's Mehendi ceremony where her guests were requested to arrive wearing shades of white.
6. Decorations –
Star-studded weddings have to have everything look mesmerizing. Their wedding decorations cannot lack behind. Couples have chosen subtle floral decorations for their wedding venues, making their weddings no less than fairy tales.
Whatever be their choices, we wish all the B-town couples a very happy married life. May they grow old together and keep giving us couple goals to follow :)!