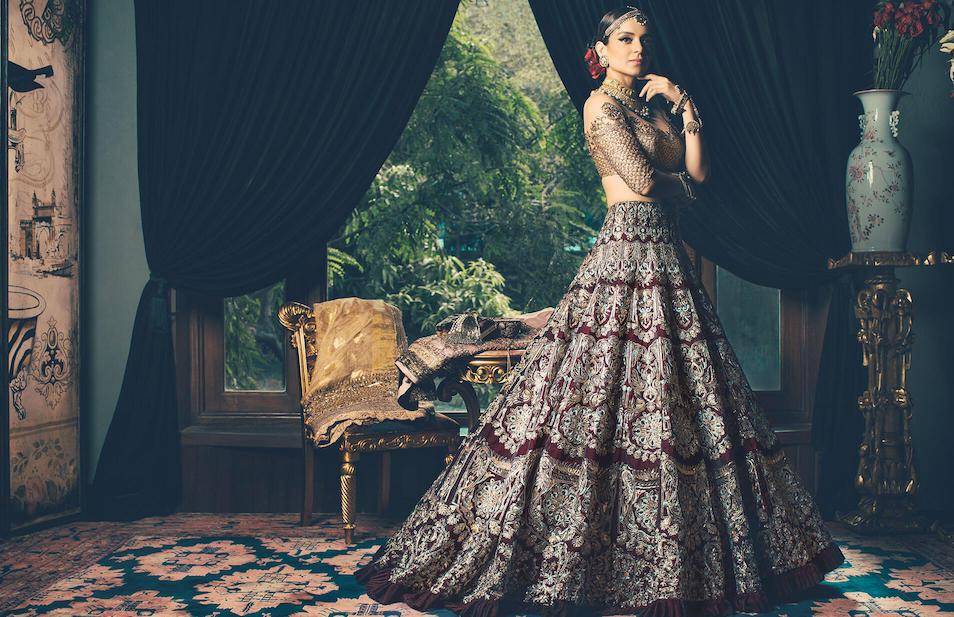 Weddings in Kolkata are a gala affair, the bride selects the best venue, the best decoration, and hires the best wedding photographer in Kolkata. Her bridal attire is the most important outfit of her life. She safeguards her wedding dress and all the wedding memories attached to it forever.
Years after the wedding a woman is found reminiscing her wedding photographs over and over again. When it comes to choosing a bridal lehenga color, all girls tend to get confused and repeat the same old colors that we have been seeing so long.
However, recently you may have heard brides say- "anything apart from a red lehenga." Well, true, though on one hand we cannot get over the magic of red, simultaneously, we also want to play with colors.
Have a look at some of the offbeat wedding lehengas of different cultures who chose colors apart from traditional red.
A bridal lehenga is a mixture of the designer's idea and the bride's desire. You need to research a lot before the perfect bridal lehenga is crafted. Here are some of the latest bridal lehenga trends that the bride of the new season could choose from.
We have already seen a shift from royal red to soft pinks and greens. Yet, we expect to see more color transformations.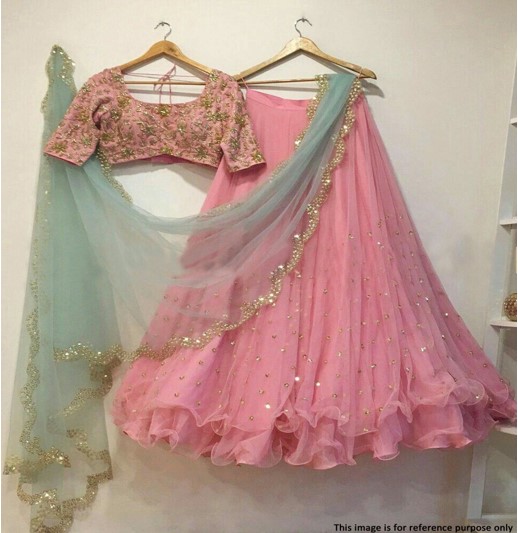 You can never go wrong with pastels. Be it a day or night event, these classy shades are going to be the best wedding day outfit for pastel lovers. A nice blush pink is sure to uplift your complexion heightening its natural glow.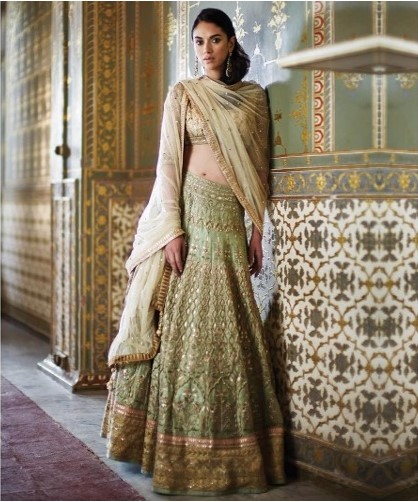 Quiet unusual to be on the list of bridal lehenga colors. This color has taken a swirl over the internet and is loved by the Indian brides. This unusual color is sure to add a tinge of freshness to your attire and help you stand out on your wedding day.
Lavender
This color is an instant solution to all your color queries. Designers completely surprised us by bringing this color into trend. And we cannot wait to see more variations of this color.
White


We all have grown up drooling over the white wedding gown and for all of us it is good news that now our designers have incorporated white into the list of bridal lehenga colors. Soft and subtle white can be refreshing as well as a gorgeous color to choose on your wedding day.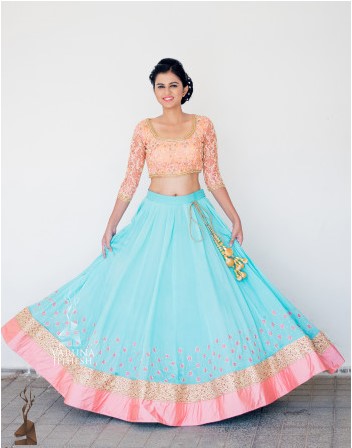 Want to take up a minimalistic look on your wedding day? Opt for the light blue colored lehenga and pair it up with gold or light pink. Girl, you're gonna look nothing less than perfect on your wedding day.
Rose gold
I earnestly want to thank Sabyasachi Mukherjee for making this color happen. From phones to watches and now even lehengas. Rose gold is the best amalgamation of glamour and elegance. It can be the ultimate choice for all your wedding events.
Orange



Our mothers are still obsessed with red as the only wedding lehenga color. But we are not and thus, we have decided to experiment with bold colors this season. One such color is orange. It is sure to create a statement bridal look while helping you showcase the funky side of yours.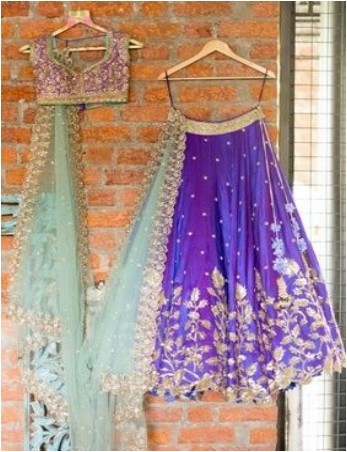 Till now it had been restricted to pre wedding parties, but as we all know that change is the only constant- there has been a shift in the use of this shade. From pre wedding parties,  it has started making appearances on the wedding day itself. A mixture of orange and royal violet shade, ultraviolet shade adds more glamour to your wedding day.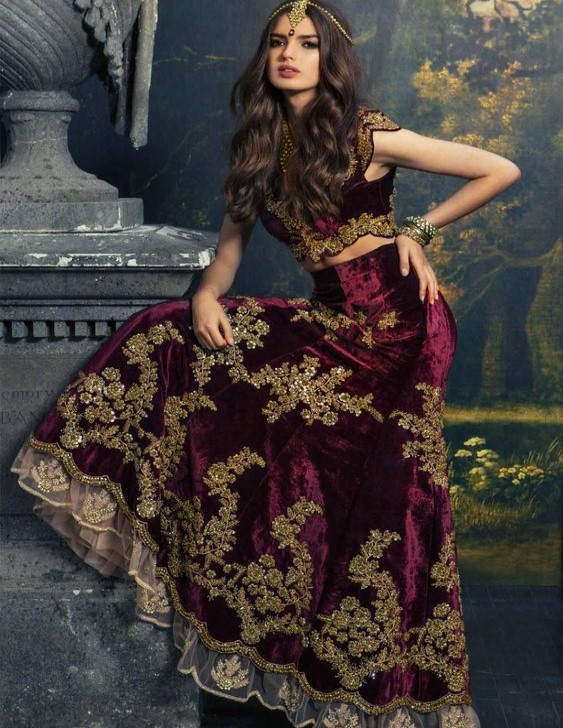 It is one of the hottest colors of the season. A plm lehenga with golden worker is sure to give you the required royal touch. Now that this is a bold color to choose, don't think twice. Whatever be your complexion you can never go wrong with plum.

The new color has arrived and it has the perfect vibe of celebration in it along with the correct amount of freshness.

Salmon rose

Might sound or even look similar to rose gold, salmon roses are not same as rose gold. While the former is an amalgamation of light peach, pink and nude, the latter is a mixed shade of gold and rose. Also salmon rose is available on soft materials such as georgette, tulle and soft net.

Champagne gold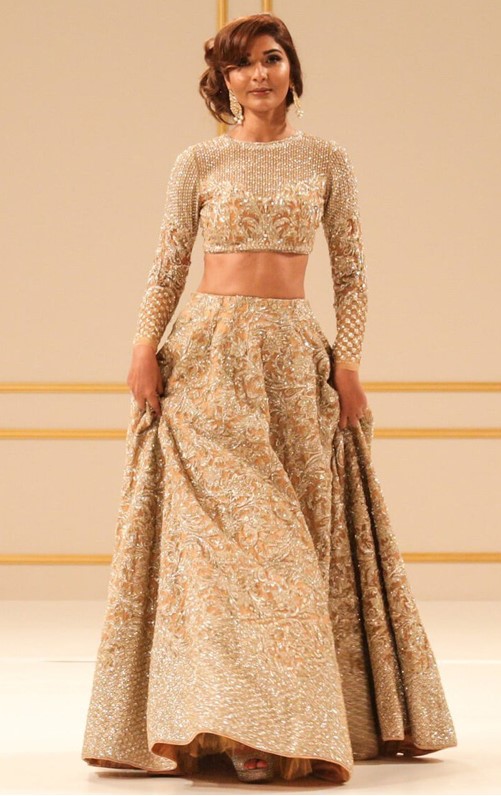 This shade of gold will definitely make you look super duper pretty and elegant. You can try this color as your reception gown if not your wedding lehenga. Pair it up with dark shaded solid color cholis and you are ready to rock the world!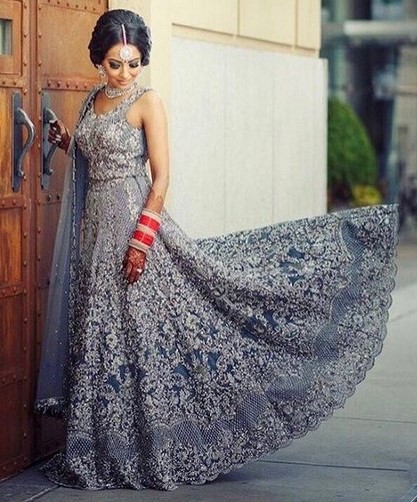 To add the x-factor to your wedding lehenga go for an offbeat color. Grey would be the perfect choice in this regard. Pair a grey lehenga with bright fuchsia pink, royal blue, black or even marsala.
Aqua blue

Another super hot color of this wedding season, aqua blue will make you look amazing once you pair it up with light pink, gold or even different shades of blue.

Yellow

Capable of transporting your beauty to some other level, this sunshine color will definitely increase your glow and your statement will leave a mark.
While you choose your bridal color consciously also keep in kind the latest trends along with the best color combinations that you can adopt-
It is high time that we bade adieu to reds and maroons. This season is all about experimenting with bold colors like- marsala, cobalt blue, wine, emerald green and purple. Add a tinge of royalty to your bridal lehenga.

Shimmer shimmer everywhere- shimmers and sequins make your lehenga look all gorgeous. While each and every color can undergo a shimmer transformation, gold and silver remain the most favourite on this list.

Add a belt to your lehenga and get a more sharper look. The belt with a lehenga is 'the new' fashion trend in 2k18.

Heighten up the drama hidden in you. Choose ruffles and relive your childhood, as ruffles are planning a comeback in fashion.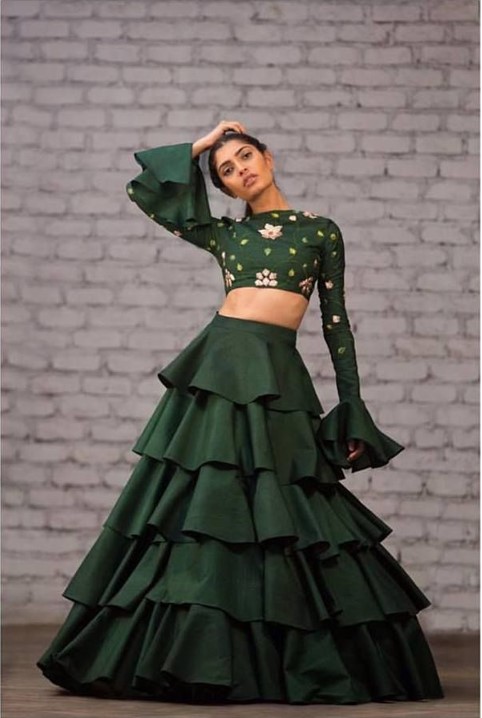 Craft your wedding lehenga with the story of how you meet your soulmate! Brides have started opting for this trend recently.

Age old materials are making a comeback. Brides are now often seen in brocades,

paithani

even

kanjeevaram

silk.

Florals are not gone yet. There are here to stay and will always rule the fashion trends. If you feel confused to decide your wedding lehenga, florals are the ultimate rescue.

Choosing a bold colored lehenga? Try and wear a dupatta of a contrasting color.
If you have many colours that are equally favorite and want to incorporate all into your wedding lehenga? Then go for color blocking as it combines many colors to form one. Thus, you have all your favorite colors in one lehenga.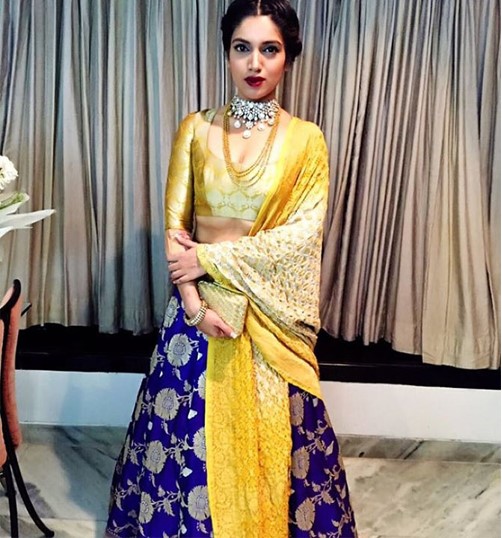 Whatever color you decide to choose, keep in mind that it should match your complexion. You don't want to go wrong anywhere on your big-day right? So here is a tip on which color you should choose keeping in mind your complexion.
If you have a fair complexion, basically you are going to have two types of skin tone- warm skin tone and cool skin tone. And you need to choose colors accordingly.
For cool skin tone – Choose:
Bright shades of pink, like, raspberry pink, sorbet shades of pink.

Bold colors like wine, marsala, pomegranate, cobalt blue, emerald green.
Light shades with pigment like mint green, light pink, peach.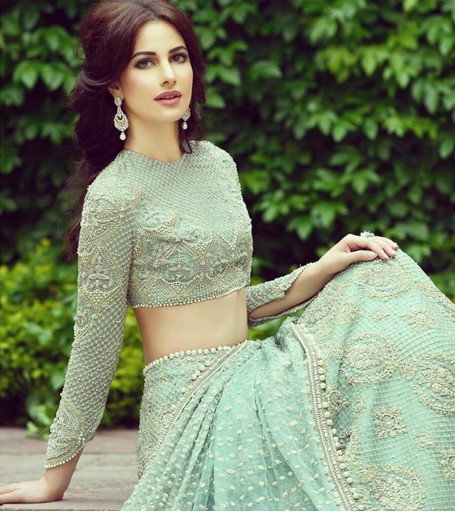 Fuschia will compliment your skin tone.

Avoid:
Bright tangerine, tomato red, beige. You may go for peach orange or rust orange but definitely not a neon one.

For warm skin tone –

Choose:

Corals, fiery shades like sky, red, and yellow, hot pink, peach. Any tone of orange or peach would light up your skin tone.

Dusty pink, medium toned emerald green, royal blue.

Avoid:
Purple, midnight blue, dark shaded emerald. These colors will add dullness to your face.

If you are on the dusky side of your complexion – Choose:
Warm pastels,

 

pale gold, dusky pink and any color from the peach family.
Burnt orange will be a terrific choice.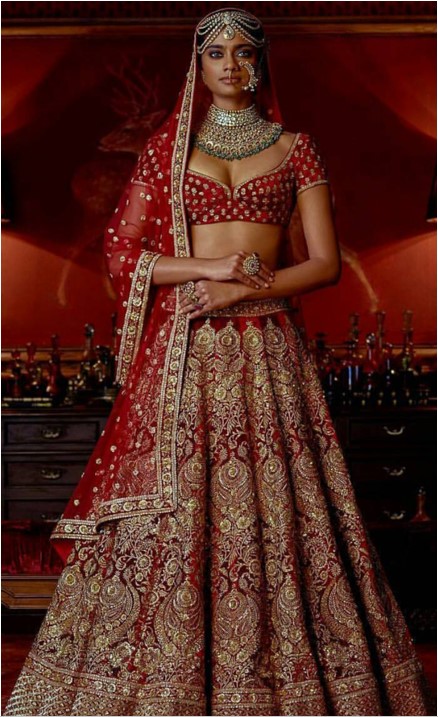 Avoid:
Try to skip cool toned reds and maroon as they will end up too overpowering on your skin tone.

Opt for orange reds and muted reds.

Neons might look cool and funky but, for and Indian bride with a darker skin tone, neons won't be a very good option to choose.
Well now that you have things sorted, choose your wedding lehenga matching your skin tone. Go for the colors that are ruling the world. And you are all set to rock your day with your killer wedding looks and all the more ravishing lehenga.